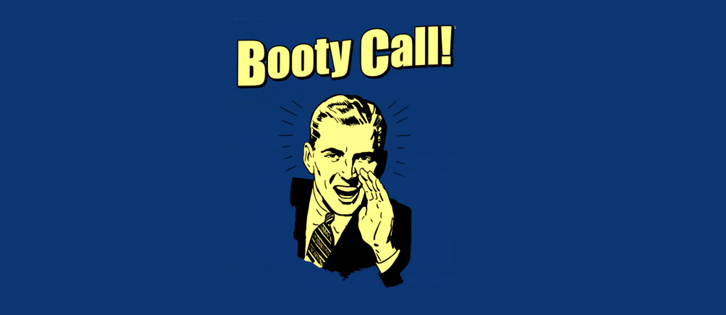 Thanks to my wonderful genre – dating, that is – I come across people of all walks of life, in all sorts of romantic situations, but recently something alarmed me a little. With the rise of the whole 'Netflix and chill' phenomena (ew), it has come to my attention that a multitude of wonderful women are becoming victims of the 'booty call'. If you don't know what a booty call is, in layman's terms, it's a sexual invitation. No more, no less, and usually, such invites are received at a godforsaken hour when no one should be awake other than those bloody howling foxes outside your bedroom window. In fact, come to think of it, the world would be a better place if they stayed in their burrows too.
Now it seems to me that the mistake being made here is that single women are confusing a 1am booty call with cupid's arrow. It's not a romantic gesture to hint at an early morning sex sesh so don't be deceived – believe me when I say that a booty call will never, ever, EVER, save you from a life of spinsterhood. If you're looking for true love, you definitely won't find it down the pants of the guy you met in a bar a few weeks back at 1 o'clock in the morning. It's far too easy to confuse lust with love, but don't you worry, I've got your back. Struggling to think why you shouldn't text the guy back who drops you a line on Whatsapp at 1am? Struggle no more. Here's why…
Do You Even Really Know Him?
Sure, you might know his favourite drink or how cheeky he likes his Nandos, but what do you really know? First off, it's important to keep yourself safe when you're dating. Sorry to sound like Mom in this situation, but it's true. If you're sneaking off for a shag in the middle of the night, no one will know who you are or more importantly, who you're with. Keep your wits about you girls! Even if you have spent the odd date here or there with him – do you REALLY know how compatible you are? I'm guessing not, and you're not gonna get to know him well between the sheets. Trust me. If you're looking for your prince, then putting his penis on a pedestal sure aint gonna make you his princess (metaphorically speaking of course). If he likes you, he'll text you and spend time with you at other times, and if not, you've had a lucky escape.
Always Being Available Is A Bad Sign
There's nothing that screams DESPERATE more than someone who is always available. Find yourself changing plans to suit a guy you barely know? Not cool. If we think about this logically, what is it you actually hope to achieve from texting a man back at that time in the morning – apart from a bit of sexual healing? I mean, let's face it, the standard of love-making wouldn't even be comparable to that we can get from an inanimate Ann Summers objects, so what's the point? This is real life, you're not on-call for 24 hours to service someone at the time of their choosing. You're a strong, independent woman, so don't be totally available, set boundaries for yourself. If it's between choking on a penis or a warm, snuggly bed – I know which one I'd choose…
What's Wrong With Keeping Them Guessing?
2016 is clearly the age of frivolity when it comes to sex and people are forgetting the monumental importance of delayed gratification – basically meaning, waiting a wee while before you get down and dirty. This is crucial and sometimes, the anticipation is simply too much to bear, but what a great feeling that is to lust after someone so strongly! Much like making yourself less available, there's no harm in keeping them guessing. Your phone flashing up at 3am? Flip it over and go back to sleep. If he really wants you, he'll seek out other ways to get your attention rather than sending you a dick pic, and well, you get my drift. A real relationship has real desire and that definitely doesn't come from dropping your draws at dawn.
Have A Bit Of Self Respect
For the love of God, you're a beautiful, intelligent woman and you should get no satisfaction from rushing to shag a lad in the wee small hours of the morning. I say no satisfaction, because I imagine you'd be faking an orgasm in this situation, or feeling a bit used afterwards. Don't put yourself through this ridiculous charade. If someone genuinely likes you and wants to spend time with you, they won't resort to a single text at 1am, or 2am, or 3am. You're always going to want more than that, and you're worth more than that. Just as much as you value your material possessions, don't forget to value yourself. Believe me, you're worth your weight in gold (and if your muffin tops are anything like mine, that's a bloody fortune!)
I know there's always gonna be times in our lives when we're looking for nothing more than a little bit of sexual gratification and that's totally okay, but the rules still apply. Make sure you've got to know the person behind the penis, be safe, rendezvous on your terms, add a bit of anticipation and never forget how perfectly priceless you are. Don't forget, if you're serious about your search for love…
Don't fall for the booty call, fall for the man who has it all.