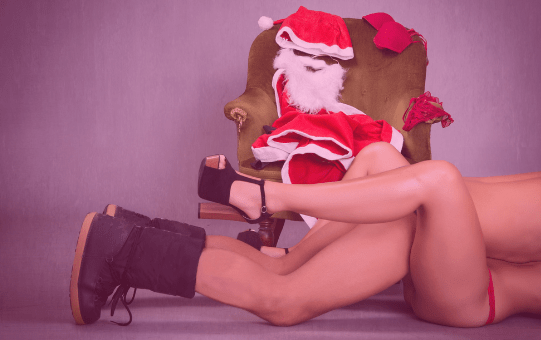 Brits are cum-ing home for Christmas, new research has revealed.
See what I did there? That's right folks. Another day, another study, and some surprising statistics about us sexual beings that can't seem to keep things conventional during the festive season, and why the hell not… 'tis the season to be jolly after all!
The curious team over at Utility Design surveyed an adult group of 1,000 British people – aren't we a wonderful bunch – to find out more about the sexual habits and preferences as they head home for the Christmas period. The research, which was conducted by contemporary home-ware and furniture retailer Utility Design, explored aspects of Brits' sex lives, including being passionate when at (or away from) home, and how the time of the year can affect their erotic behaviour.
Aren't we a bunch of saucy little Santa's helpers?
It would certainly seem so according to their findings! The results? Perhaps some might find them eyebrow-raising, others? Not so much.
The survey says…
13% turn to sex on Christmas Day to relieve the stress from the day.
Okay, a part of me wholly agrees with this one, but a part of me also feels that we turn to sex on Christmas Day because we're happy, we're content, we want to celebrate the festive season, you get my drift. We have sex on Christmas because we're all off work not worrying about deadlines and we're a little less uptight with the daily grind and a little more care (and pants) free. 
Normally just 19% of Brits would be willing to have sex in a family member's home, but this more than doubles to 43% over the festive period as people 'can't wait' until they get home.
Can you blame us? Even Mommy couldn't wait to kiss Santa underneath the mistletoe last night, so why should be have to wait 'til we're home to get the pig in the blanket… if you know what I mean. We've all spent years practising discretionary sex so it's about time we're able to put it to some good use.
In their own home, Brits are straying from the bedroom and instead champion the humble sofa as the alternative "location of choice" to get intimate.
Quite right too! Sure, the bed is an ideal location but opening up to spontaneous locations certainly does keep things exciting. Don't get me wrong, the bath isn't the best area to attempt a shag when you're both big buggers but other than that, I'd say christen every room of the house. Just be sure the neighbours aren't peeping in, unless you're into that sort of thing, in which case, crack on. 
Of the 30% of Brits who have had sex on the kitchen table and/or dining table in the past, 9% admitted that they did not thoroughly clean the space afterwards – something to be aware of before Christmas dinner is served this year!
Firstly, ew. Secondly, gross. A bit of common courtesy doesn't go amiss guys and girls. If you're gonna bang next to the Brussel sprouts or get tantric near the turkey, at least have the decency to get the Dettol out afterwards. I don't know about you but I don't want to find any pubic hairs in my gravy. Although, all that being said, I can't knock table sex.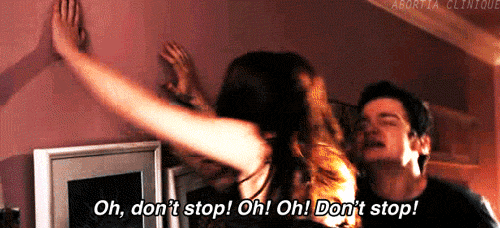 The research also found that instead of heading between the sheets and counting the notches on their bedposts, some Brits are being more adventurous and are instead relying on different furniture across multiple rooms in their home on which to do the deed. Overall, the sofa emerged as Britain's most amorous alternative piece of furniture, however the shower (39%), dining table (19%) and kitchen table (11%) were the next most popular places people choose for steamy sex sessions.
Additionally, 7% had previously opted for a dining chair, 5% headed for a sideboard or cupboard, and just over 2% (estimated to be over 1.3 million UK residents) have attempted a love making session with the aid of a shelving unit – commonly resulting in some disastrous effects – quelle surprise, it's common sense guys.
So, I hope I've left you feeling educated, informed and entertained, but above all, what I really want to know is, on a scale of 1-10, what's the likelihood of you having sex on the sofa tonight?