As you all know by now, I have been single for a very, very, very long time so I haven't yet reached the stage within a relationship where the spark starts to die down. In fact, I haven't even had a spark as of late, never mind the chance for it to disappear. Regardless of my single status, I do have a big circle of friends who are in relationships, engaged, married, you know what I mean, so I know fine well that there do come times where things seem to dry up on the sex front.
This doesn't mean that the two people involved are any less attracted to each other, but as we all know, sometimes life just gets in the way and it takes a tiny bit of effort to relight that fire. This isn't a difficult task, as much as people may think it is and there's all sorts on offer these days to point you in the right direction when it comes to spicing up your sex life.
Introducing Dewci Box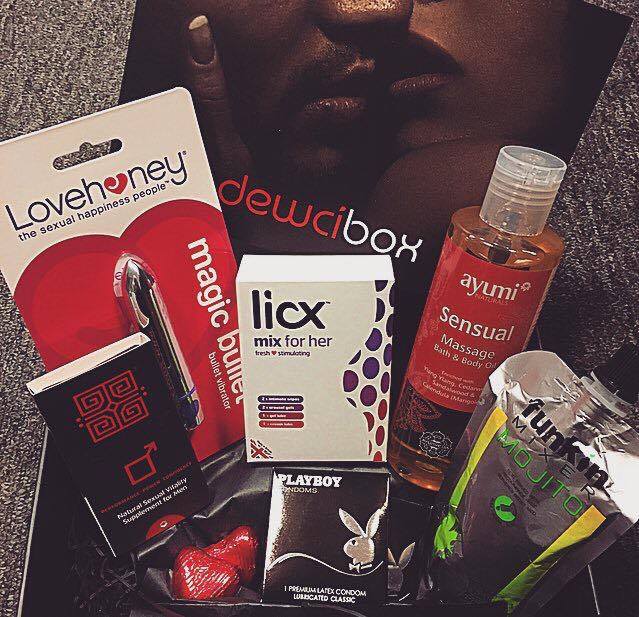 A sophisticated, high quality adult subscription box delivered straight to your door. Genuinely, I think this is a great idea. Wanna know why? I mean, honestly, the amount of times I've been in to adult underwear stores only to be surrounded by awkward couples hovering round the toys and lubricant in an attempt to find something 'different', and a lot of the time, unable to choose and feeling uncomfortable, leaving empty handed, which is a damn shame considering the amount of things they could be using, playing, doing, wearing, licking… well, you get my drift.
The Dewcibox eliminates all of those hang ups, which is perfect, as it's delivered discretely straight to your door. You literally don't even have to think about what to get next, or what to try another time, it's just a welcome surprise every month! Couples no longer need to worry about how to keep the lust going within their relationship as well as the love, with so many different things to try to keep each other entertained, I can almost guarantee 100% satisfaction.
However, I couldn't help but feel disheartened initially when I first received my Dewcibox. Before opening it, I though, well this is a kick in the teeth. It's been bloody ages since I got my kicks between the sheets and now I've been sent this treasure chest of pleasure as a gentle reminder that I'm not getting any. How wrong I was! Sure, there's an item or two that are more suited to having 'two to tango' but they ain't half bad for the singles too. I mean, who would scoff at the thought of receiving a cocktail, a magic bullet, chocolates and lube in the post? Not me my friends, not me.
So yeah, in short, if you're looking for a discrete and exciting way to take your sex life to the next level, whether you're single or taken, I'd recommend the Dewcibox because… well… for obvious reasons.

PS. To know more about Dewcibox, you can go to their website or follow them on Twitter