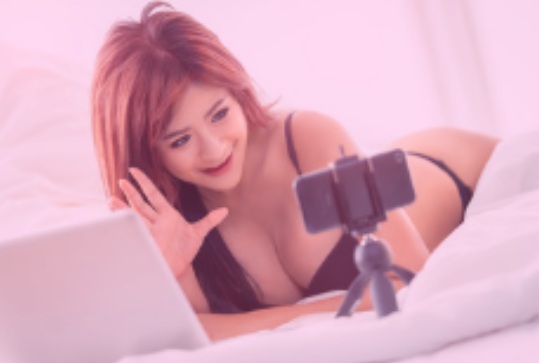 The entire world is under lockdown and we are all forced to find activities that will make us busy until it lasts.
Yet, what else do we have in mind other than using our mobile phones and computers? Others choose to create a new hobby or getting fit and healthy. However, on the other side of the situation, we all long for some interaction, connection with other people.
It is more comfortable with applications like Viber, Skype, Facebook Messenger, and Zoom. You need to connect to the internet or Wifi, and you are good to go. As a famous quote says, "No man is an island." Well, that is true. We all need connections, whatever forms they may be, especially right now.
Of course, there's been a lot of chat in the media about the rise of sites such as 'OnlyFans' and the likes, which is being used by many women and men alike to generate an income in a creative way whilst working from home. OnlyFans can be used to promote content of whichever nature you prefer, but mainly, it's by selling nudes and the likes – even Kerry Katona has jumped on the bandwagon!
So with the present-day 'working from home' mantra, and finding alternative ways to generate income – whether that be through sexual content or other – it's important to know the pros and cons, and of course, any potential risks before jumping in both feet first.
 The Risks of Using A Webcam
Internet users use it for many things like video conferencing, communication, presentations, and many more.
However, we are not exempted from malicious attacks by people online. One major issue with the applications given above is its privacy. There are cases that personal accounts and computers are getting hacked. Moreover, pictures and videos are taken without the users knowing it through webcam.
In one report, a woman discovered that someone is spying her using her webcam. She used the gadget to monitor her pet. But then suddenly she witnessed it turned to her direction. You can click here to read the story.
Another report has surfaced that hackers could watch Facebook users using the webcam on their computers. They get data by capturing one's facial reaction. They used the taken pictures to study people's behaviour and response based on what they see on Facebook. The social media platform is investigating it already.
So, how do we fix this problem? What should we suggest?
 Ways How to Avoid Hacking Issues in Webcam
 Purchase from legitimate sellers
Make sure you purchase your gadget (laptop or computer) from a licensed seller. Double-check if the device is brand new and not a second hand. Here, you can eliminate your webcam getting hacked. You never have to worry if there is a malware installed in it.
Install antivirus
You can install an antivirus software from the internet. You can also buy it in the computer stores. It will help you get rid of malware on your computer. It will keep your files safe.
Change the password
Once you buy your gadget, change its default password. Avoid using the given password to avoid possible hacking. It is because some might have kept the same password. It could is used to spy on you.
Visit secured websites
Keep in mind hackers lurk in creepy and strange sites. Make sure that you are 100 percent that what you browse is safe. Make sure that even if you get into the hobby of viewing policing webcams, you are still accessing the safest and most reliable sites.
 Now that we are familiar with the danger we could experience in a webcam, this time, let us go to the essential features of it.
Features of a Good Webcam 
Look for the features of a webcam if you want one. Check the list below to help you with your search.
Resolution
An excellent resolution brings quality images and videos. It could reach 1080p. Recently, it has been a problem in MacBook Air laptops and in using Zoom. You can visit the link https://www.forbes.com/sites/ewanspence/2020/04/04/apple-macbook-air-macbook-pro-macos-webcam-ipad-pro-iphone-selfie/#b2b9a3633cc7 to know more about the issue.
Lens
You can choose between plastic and glass lenses. Expensive webcams use a glass lens. It gives and captures more quality images and videos. It is beneficial when you have video conferencing with your boss and workmates. It is better to get the glass ones.
Microphone
It is vital on the webcam. Before you buy a good webcam, check if the receiver is working. A good microphone should make your voice audible. It should capture sounds very well.
Focus
The webcam must be able to put the focus on your face or the object. It should provide a clear image or video. Because of this, the person whom you are talking to could perceive the image accurately. It must not show any sign of blurriness.
Helpful? I Hope So!
During this unpredictable period of our lives, webcams of all descriptions have allowed us to communicate and connect with others in ways that were simply not possible in the past. However we use webcams, or choose to use them, is perfectly fine. Just ensure that you're being vigilant so that you are not at risk in any way, shape or form.
        At all times, safety and privacy are the top priorities.