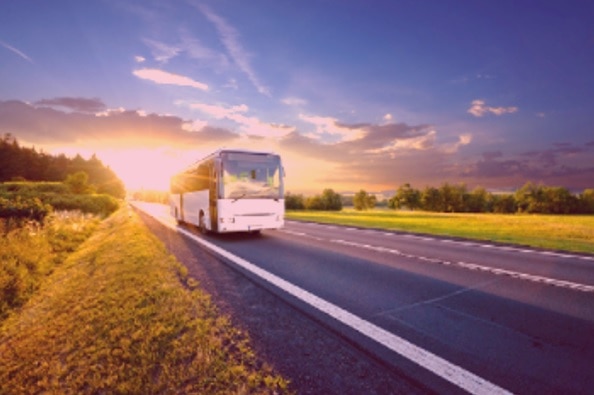 Summer is upon us, and after what seems an eternity of being in some form of lockdown, couples can once again start thinking about going on holiday.
Since the onset of the pandemic, it is true to say that the travel industry has taken a bit of a hit financially. However, the green shoots of recovery are starting to show and with them has come the resurgence in popularity of the coach holiday. Couples are craving getaways to reignite romance after what has been a troubling year, and staying local to England has become hugely popular.
Not only do coach holidays offer variety, but they are also a safe way to travel as there tends to be fewer coach accident claims than those associated with other types of holidays. A lot less thought is required in terms of navigating your journey and getting around, which means there's more time to soak up culture and just enjoy the break.
So, if you have never considered a coach holiday before but are interested in giving it a try we have put together a list of England's top five romantic coach destinations to hopefully help make your choice easier.
Yorkshire
A coach tour of Yorkshire offers touring couples the best of both worlds from stunning moorland landscapes to the beaches of Scarborough and surrounding areas on the county's North Sea coastline. For couples who love their literature, you can visit Bronte country situated in the heart of the Yorkshire Dales National Park. Yorkshire is also the home to a number of towns and cities that are prime visitor attractions from Holmfirth where the iconic Last of the Summer Wine was filmed to Harrogate a fashionable Victorian spa town. While a visit to York can offer you an insight into life in Roman Britain, it also gives you the opportunity for a cheeky flutter at the racecourse – a perfect romantic getaway.
Dorset and Bournemouth
Situated on the picturesque south coast, Dorset boasts acres of unspoilt countryside along miles and miles of golden sands, making for an idyllic couples holiday. It is a county that has more attractions than you can poke a stick at including piers, acres of manicured gardens, woodland and history.
Bournemouth is famous for having not only 7 miles of stunning beaches but also Victorian architecture and thriving nightlife. A laid back seaside resort with a busy town centre, it features all the usual attractions including castles, museums, galleries, crazy golf, numerous bars and restaurants and of course the obligatory Pier. Bournemouth also has over 2000 acres of magnificent gardens for the keen botanists among you.
Devon
Devon is one of the most beautiful areas of the country containing five areas of outstanding natural beauty, two national parks and mile upon mile of beautiful coastline. As a result, it's no secret as to why it's one of the top romantic getaway destinations in the country. There are lots of things to see and do in this haven situated on the South West Coast of England. You can wander serenely around the magical countryside, visiting villages populated with thatched cottages offering a flavour of rural England from years gone by.
Alternatively, you can visit the old port towns and fishing villages such as Brixham and Dartmouth or famous seaside resorts such as Torquay. Devon also has a number of stately homes and castles. So, as you can see Devon has a bit of something for everyone making it the perfect destination for any couples coach holiday.
The Isle of Wight
The Isle of Wight is famous for many things, such as the Needles – a row of tall white rocks that rise from the sea – and Osborne House which was once the residence of Queen Victoria. The Isle of Wight was also home to probably the first major music festival of its kind in 1970 when hundreds of thousands of fans descended on the Island to see a legendary performance by Jimi Hendrix. The wonderful choice for couples who fancy a lively vacation.
Buried within the cliffs of the Isle of Wight are many prehistoric fossils. The Isle of Wight is so rich in history it is impossible to know where to start. From Carisbrooke Castle where Charles 1st was imprisoned prior to his execution to the museum of Island history there are lots of places you can visit to learn more about the Islands history. The island has long been seen as a place to imprison some of the most dangerous criminals in the UK including the infamous Kray twins and Richardson brothers. Some of the other attractions include the Zoo, gardens, beaches and of course the famous week long Cowes regatta.
The Lake District
The Lake district is an area of outstanding natural beauty that contains stunning scenery, abundant wildlife, glistening lakes and rugged mountains. England's largest national park has now been recognised as a UNESCO World Heritage Site and is without doubt one of the best places to visit for those who enjoy the great outdoors.
A walkers paradise the Lakes are home to England's highest mountain Scafell Pike, which is 3,260 feet high and largest lake, Lake Windemere. From hiking, cycling taking a cruise on one of the many lakes or propelling yourself along in a canoe there are many different ways to take in the beauty of the Lake district. However, for those of you looking for an easy life many coach holidays will take you serenely to your destination by coach allowing you to take in the splendid panoramic views in comfort. The ideal choice for couples looking for romance in their surroundings too!
The Lake district is also home to thriving towns such as Bowness, Ambleside, Grasmere and Kendal where there are many bars and restaurants in which you can while your evenings away. The fact that it offers so much to the visitor makes it no surprise that The Lake District is one of the top destinations in the UK when it comes to coach holidays.
While there are numerous other destinations that would provide you with a romantic break, in our opinion the ones listed above are right up there with the best. Hopefully the information contained in our post will give you some food for thought for your next couples coach holiday!