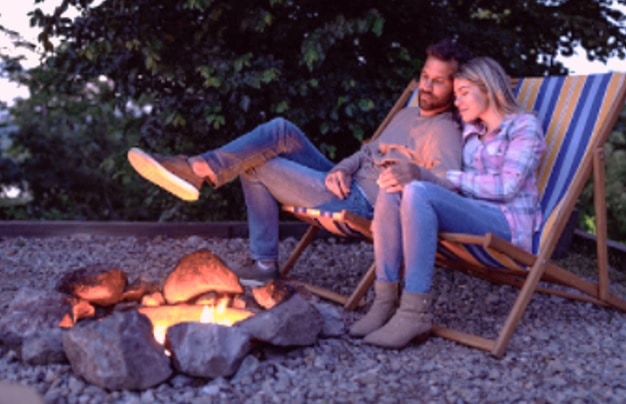 The romantic nature of gardens is obvious. If you think of a romantic hideaway, do you ever wonder if you can replicate it in your own backyard?
You probably can imagine full of flowers and dramatic features that captivate your attention.
Gardens ooze tranquillity, elegance, and style, and have long been a favourite place of love and romance. People often accuse romantics of seeing the world through rose-tinted glasses. However, some argue that they have the best view out of all. Let's look at some ways you and your other half can beautify your outdoor space and turn it into your own.
Fill It With Flowers
It is common knowledge that a romantic garden has the connotation of being 'vintage' or 'old-fashioned', but how should you create that look. Make sure you choose long-blooming day lilies when choosing plants. Lavender and Hebe are both summer-blooming small shrubs, which will also provide structure next winter when the evergreens disappear.
With their colour, fragrance, and radiant abundance, roses have long been associated with love and romance.
They can be draped over arches, clambered up pillars, or weaved into border designs.
Ensure Comfortable Seating
Everyone would rather spend an evening sitting on a comfortable chair than a cheap plastic one. A bad posture isn't good for your romance, nor is it good for your posture.
That is why it is vital that you and your spouse have a comfortable seating area.
Have you heard that outdoor sofas can be made to withstand the elements? Alternately, you can build a "seating ring" and fill it with lots of cosy outdoor cushions to create a welcoming place to unwind.
Ambience Is A Must
||| No one should eat their dinner in complete obscurity. You can illuminate the pathway to your patio with solar lights to make it easier to move from the inside to the outside – these look especially luxurious bordering artificial grass.
For sun protection in the summer, consider adding a pergola to cover the patio area. If it is hot, you can even hang curtains for shade. Your back garden will be transformed into a fairy garden fit for a king (or queen) when you're hanging sparkling lights!
Additionally, landscape lighting can accentuate your outdoor path, and bring even more attention to your favourite garden spots. Another idea is installing a natural stone water feature near your patio can help quieten your intimate environment and make it more relaxing.
Warm Things Up
Any time of year, you can enjoy a romantic evening in your new backyard with an outdoor fireplace. If you install the fireplace at the edge of your patio, your furniture will take on a focal point. Keep your wood supply full of cedar or pine, which has tranquillizing properties.
You'll want to prepare your fire beforehand to set the scene. Be sure to buy the correct fuel, in fact, you can quite easily pick up kiln dried logs in Sheffield or anywhere else in the UK, but you'll need to wait until your partner arrives before you actually light it, as this will be like the cherry on top of a perfect date night – marshmallows anyone?
Privacy Is Key
To conclude, always consider your privacy when planning the perfect romantic backyard oasis. It is crucial to create a secluded area where you will be protected from onlookers. In their perfect back garden blueprint, romantics often rely on perennial fences or hedges to achieve just this. As a result, a boundary area can be gently screened while still being able to receive some sunlight.
To repurpose of old doors or leftover wood makes building your own privacy screen a simple and cost-effective project, as creating a concealed area with privacy screens is an incredibly easy and cheap DIY project. With the exception of nails and a hammer this functional partition can be constructed purely out of salvaged doors or pallet wood.
This could even be a different kind of bonding session for you and your partner for another day!