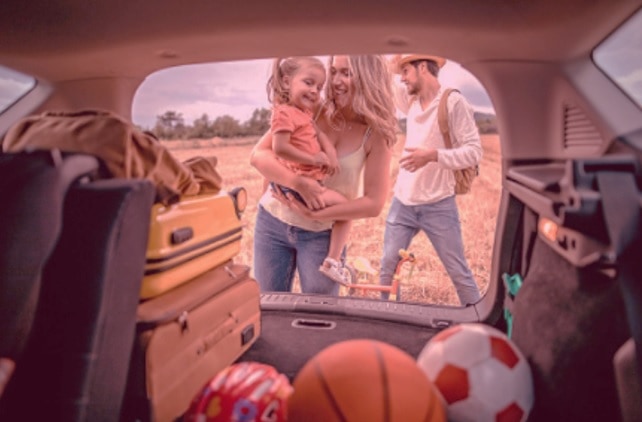 When your relationship grows over time, it's no secret that your family does too.
In most cases, when couples have been cohabiting, two soon becomes three, and four, and five – trust me, I've been there, and now done that! A lot of things change when the little ones come along, so it's important to be prepared for the transition from being a couple, to a couple of parents.
One thing to think about is how you're going to get your mini me from A to B. When your family unit is experiencing an upgrade, it may also be time to upgrade your car.
In fact, ti may be necessary to put your cute little hatchback or low sports car on the market for now if your family requires a new car. But just what do you need to acknowledge when searching for your brand new household car? To help you make that all-important choice, here is a short list of things to ponder on.
Can Child Seats Be Accommodated?
You'll need three booster seats in the back if you have (or plan to have) three children under the age of 12 years old. So are you going to be able to fit in your new car? A car's length is an important consideration. You'll have to pull the front seat so far forward in order to fit a rear-facing seat in the back, which might make for little legroom if you're tall.
Will All Your Things Fit?
Prior to purchasing a new vehicle, you might be better off taking everything you normally fit in your old car into your back garden. Buying a car is one thing but finding out that your pram won't fit in the boot is another. Keep in mind that you'll always require more space, especially if you have multiple children.
How Fuel Efficient Is The New Car?
Nowadays, everything is oriented towards the environment. The fuel emissions from your vehicle are crucial to protect the environment. If you can't afford to fill up your car with petrol, it does not make sense to spend a fortune on a nice car. Prior to making a purchase, make sure the car is fuel-efficient.
Does the Car Have All The Extra Features You Will Need?
Adding some extra features to family cars can be a pretty cool thing. Child locks on the doors, back seat belt warning systems, and reversing cameras are some safety features that you might want to consider. The car could also include features such as cup holders, DVD players and other rear-seat entertainment systems – bored children only leads to all-round arguments!
Finally, Where Will You Leave Your Car Overnight?
If you leave your beloved family car overnight, there are some precautions you can take to prevent thieves and vandals. If you have a garage door in Cheshire, or anywhere else in the UK, security lights can be a very wise investment. Moreover, it won't lower your car insurance policy's cost, but it will deter property burglars. Your keys should also be hidden in your home as another easy and quick way to improve your car's security.
In this day and age, it seems you can't have anything, so it's critical that you make sure that home security is a priority when it comes to buying a new car, for the safety of your family and other assets of your property.