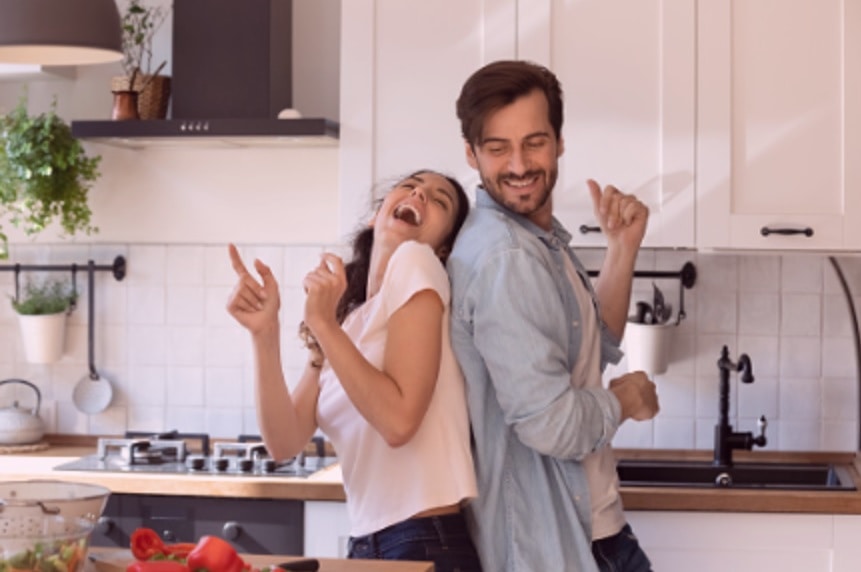 Over the last few years, you and your partner have probably had a lot of time to think about how you would design your dream kitchen, even before moving in together.
A newly married couple may want to convert their old space into a new one, where the kitchen plays a major role in keeping their union strong. When a couple decide to cohabit, their ideas amalgamate to form exciting ideas that they can bring to life. The kitchen is – in most cases – the heart of the home, so it's important to get it right.
Food is the key to anyone's heart, and we all know how romantic cooking for your partner really can be, expressing love and emotion in the creation of healthy (or not) food! In that light, here are some crucial factors you might want to consider when you're planning your new budget kitchen!
Make Your Kitchen Appear Brand New Without Spending A Penny
Cleaning up is the first step. You can immediately improve the aesthetics of your kitchen by rearranging the worktops and oven racks, without spending any money.
If you want to maximise your storage space, you can get compartment inserts that fit into drawers and cupboards. By doing this, you may even find that there is some repair work needed.
Cleaning in and around your sink and notice a leaking pipe? You could find you need an experienced team specialising in a water leak detection in Dorchester, or anywhere in the UK for that matter, and this is the kind of expense you need to be prepared for.
Do not be afraid to experiment with the style of your kitchen, as well. While moving your white goods and appliances can be difficult, it can be a smart idea to rearrange your kitchen to make room for future additions.
In the long run, you'll acquire that 'fresh feeling' of your kitchen, even if you haven't made many upgrades.
Replacing Isn't Always The Way Forward
Buying new sets of items to replace old ones is one of the most cost-intensive aspects of kitchen renovations; these items can take up a hefty slice of the budget.
By refurbishing rather than replacing old and out-of-date items, you can revitalise the appearance of your kitchen without spending a lot of money. The majority of the time, you won't need to replace them unless they are blatantly and irreparably defective.
You don't have to be concerned about the costs of replacing things in your kitchen, and you can rely on a competent team of remodelling wizards to take care of anything you need done.
As much as this could be seen as a 'bonding activity' with your other half, home improvement in the kitchen isn't as effortless as it may come across, so don't tackle it yourself.
Whenever you hire an expert to help with your kitchen designs or reconstruction, there is always a difference. Ideally, we are not trying to cut corners or ignore the underlying principles of cost so much as we seek to create our dream kitchen at a reasonable cost.
Take Notice of Augmenting Elements
There's a lot of value in this, and you will presumably save tons of cash. Focus on the obvious, visually noticeable features of your dream kitchen when you're on a budget.
Consider concentrating your efforts on the areas that guests see immediately after entering the room. These areas deserve your immediate attention, and your less important aspects can wait until a later date.
This can also valuable when it comes to buying new kitchen decor and appliances. Think about spending more budget on the more 'in your face' items, and fewer funds on the items that are more out of the way.
Be Unique And Innovative
Remember, almost all home life revolves around the kitchen, which is a place for sharing delicious food with loved ones and guests. It's important to add a personal touch to the often bland interior of the kitchen, since this creates a welcoming aura that makes the place feel homey and intimate.
As mentioned, we know that kitchen appliances and repairs can cost a fortune, and you can find inspiration for your simple and inexpensive kitchen design anywhere! Here are 3 quick ideas that can help you and your partner revamp your kitchen:
Your Kitchen Needs Nature – Greenery in the house is great for the soul, and in the kitchen it's even more of a delight. Add artificial or fresh plants into your kitchen and display them on your counter or cabinets next to the windows. Blooms from your garden and synthetic plants from other rooms of your home can be displayed together to make your kitchen feel one with nature.
Add New Lighting – Take advantage of the affordable lighting options available online, and make your kitchen the talk of the town with a striking lighting design. Finding the right lighting to go with your existing colour scheme is one thing you can do to channel you and your partner's inner interior designer.
Consider Artwork – Accentuate the ambiance of your kitchen with the help of trendy decor. You can put your creative abilities to practice and craft your own unique piece, and if you don't want to fork out for a surface, use salvaged timber planks or, better yet, a wooden cutting board.
Despite the fact that every room of your house is used every day, the kitchen suffers more wear and tear. As a result, every kitchen needs a little work eventually, whether it's a simple makeover, or a major renovation project.
With the above ideas to consider, you and your partner can design your perfect kitchen without going over budget!