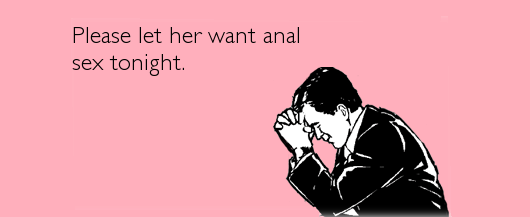 Yes. That's right. I'm going to talk about the topic that no one ever really wants to discuss (and sometimes, with good reason) but I suppose someone's got to do it! I'm almost certain that thanks to Keith Lemon and his superb catchphrases, the title of 'back door business' has really given the game away. Anal.
I said it! You know why? Because apparently, these days it's a thing, and guys love it. Naturally, as women, we can't help but wonder as to why. I mean, what on earth could be so appealing about entering an exit? It's certainly a subject that's always intrigued me in one way or another.
As a woman living and working in a city, it's obligatory to meet your girlfriends at least once a week to talk about life, love and laughter over copious cocktails, and wine, and gin, and well, you get the idea. After a few tipples, and I'm not sure why, but the subject actually arose and it was pretty interesting the gage everyone's reactions. Amongst the group were some horrified expressions and some surprisingly sassy ones. There was a definitely split in the group, and what I can tell you that it was either a 'yes I would (or have)' or 'no I certainly, definitely would not in a hundred million years'. There were no grey areas of opinion when it came to the back door. It was either yes or no. I couldn't help but wonder about this supposedly unauthorised act: should it be remarkable, or restricted?
Well let's face it – as much as it might be happening under most roofs, it's taboo and we know it. I actually took it upon myself (after the night in question with the ladies) to speak to a man friend of mine, and very bluntly asked "so what's the deal with anal sex?" I don't think he was particularly surprised with my line of questioning, in fact, I utilise his male brain more often than not to gain an informed male perspective on a lot of situations, taboo or not. The first thing that struck me was that he said "well, it's forbidden". So what, it's a challenge? Is that why men love it so much? I guess it's no revelation to me really, because let's be economical with the truth here, men nearly always want what they can't have right?
Okay, so we've determined that it's definitely the forbidden fruit of the sex world, but what else could make this seemingly restricted territory so attractive to the male species? My answer – blame porn. Think about it – way back when, if a guy wanted to get his jollies, he'd pop down to the shop for a copy of Razzle whereas in this day and age, sex is absolutely everywhere. Hell, even us women have jumped on the brazen band wagon and apparently, it's now socially acceptable to read risqué literature, such as Fifty Shades of Grey, in a public area without the blink of an eyelid. With this in mind, I think it's safe to assume that most people have come across the 'back door concept' in all forms of erotica without even looking for it, so it really is no shock that so many sexual taboos are losing their stigma and ultimately impermissible status.
That's just it though. Men are seeing it happening everywhere, so if they're not having a go themselves then they're probably going to think they're missing out. I suppose that's when the puppy dog eyes come out, or one night they just happen to 'slip'. Yes, we've all been with, or heard about, someone who has tried that line haven't we? Undoubtedly the biggest lie of the 21st century to date, and don't be fooled by it.
Sex, of any description, is as I always say a two-way street so everything going on should be consensual on both parts. If you're not comfortable with exploring a forbidden territory, don't do it! Sure, he might reel out some classic lines like 'but my ex loved it' but remember, it's totally your decision (and your bum) so always bare that in mind.
Let's look at the facts. A lot of people do it, regardless of the reason as to why, so there must be some perks to a bit of back door business but unfortunately, I can't tell you whether it's great or gross. That's up to you. Believe it or not, I've read that some women actually prefer it to 'normal sex' so I suppose it wouldn't hurt to adopt the 'I'll try anything once' approach. It is, however, pretty clear to me that indulging in any sort of sexual act is a matter of choice so if you decide to let someone enter your exit, be sure it's on your terms and prepare yourself for all eventualities!