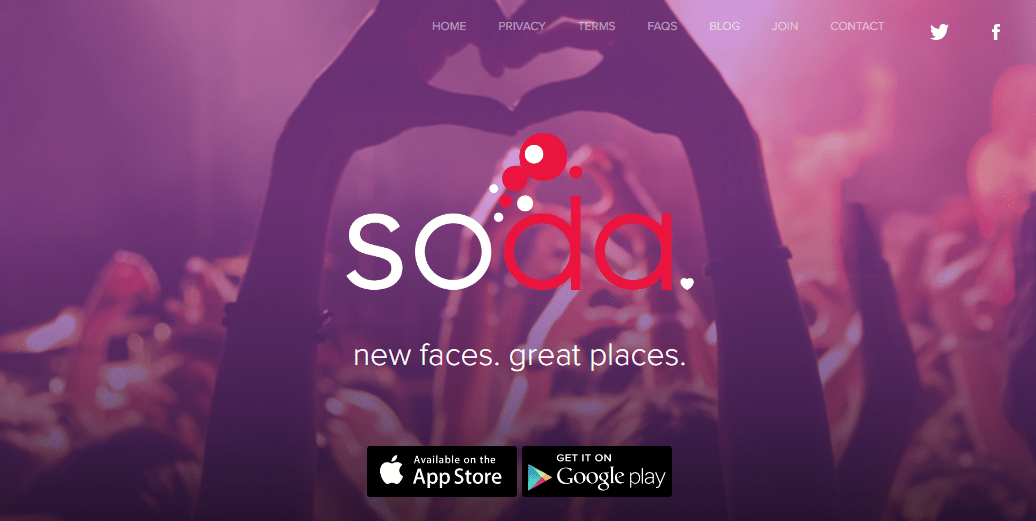 Online dating is dead!
That's right you read it here first. Well, it certainly is a truth according to the UK's newest dating app – Soda. Weird name right? Not really. Soda stands for 'social dating' and they're going against the grain to make dating a real-life experience again. I'm not going to lie, it seems like these guys have got it down to a tee…
"You spend ages getting a date sorted, then realise there is ZERO chemistry when you meet them… back to the drawing board, eurgh! Skip the tiresome online part and get Soda. Connect with people in SOCIAL surroundings and make real connections in a fraction of the time"
They make a pretty good point right? Don't get me wrong, there's an awful lot of success that comes from online dating but as with everything, with the good comes the bad, and where there's no success, there's disappointment, and lots of it.
YOU'RE SICK OF MATCHES THAT DON'T SPEAK!
So here's the stuff you need to know about Soda
DISCOVER GREAT PLACES
They'll show you the most exciting social venues in your area and all you have to do is check-in to discover other Soda users.
EXPERIENCE NEW THINGS 
The team at Soda will send a vibrant mix of events your way so you can always experience something new.
GET EXCLUSIVE PROMOS
Expect some big deals and discounts on offer at Soda venues . They want to reward you for being social!
So naturally, a lot of perks on offer, the opportunity to meet people in person, nothing gets past The Narrative. I thought there must be a catch. Of course, rather than simply assuming that there was a catch, I searched the Twittersphere (can't believe I just said that) and found Blair, the founder of Soda. I didn't make a point of having a massively in-depth conversation with him, I just wanted to find out why he thought his app would be a good idea. Can't argue with the guy, he's nailed it.
Less time online, more time in person
Quicker and better conversations
No pressure to meet 1-2-1
No awkward first dates
Events and discounts for Soda venues
Soda lets you connect with new people socially in a matter of hours
Think about it, when you're dating online, you can only really rely on a physical attraction…. to an image… and an emotional attraction… to a text message. Not quite the same as the real deal eh? BUT when you meet someone in social environment, you can benefit from all 3 components of attraction: physical, emotional and chemical. Now if that's not a good reason to get offline and get out, I don't know what is.
Some might say that online dating has taken the shine off first dates and real connections (some being me) so it's really good to know that there are people out there who a) agree and b) have an alternative on offer – a free one at that might I add. In 2017, we're a bit done with swiping left and right, we want to go out and have fun but be open to meeting someone (potentially) special amongst all of that and well, Soda seems to be the best way forward.
PS. If you're gonna get a discounts on drinks or food as well, it's a no-brainer really.