Ah, it's here again – May is Masturbation Month! The only month in the year where it's totally okay to play (with yourself) right? Wrong. In fact, it's pretty common practice all year round for those who are single and are part of a couple alike. The stigma surrounding masturbation is slowly disappearing and thank God for that because why should anyone stand in the way of a bit of self-gratification?
It relieves stress and tension, it teaches us about our bodies, it feels good… need I say more?
Life can have many simple pleasures; good food, a nice glass of cold crisp white wine and of course a great orgasm! Proven to chill you out and help with stress, an orgasm can help you live longer, look better and feel great. I guess this is a good excuse to spend less money on the botox and more on the vibrator collection right? Ha! I'm not just saying all of this, the proof is in the pudding – so to speak. A new survey of 4,500 people by online sex toy retailer Lovehoney had a wee look at the masturbation habits of us Brits and just over half of women (55%) say masturbating does not detract from their enjoyment of sex with their partner and 34% say it enhances it.
It's obviously good to explore your own body with your own, well, hands I guess – because the more you know about how to press your own buttons, the more you can gently guide your SO to guarantee you get a happy ending. However, we women like things to be a little more intense (and let's face it, the least physical energy we can expend, the better) so it's more often than not that we turn to the many toys on the market for our own personal enjoyment. It seems we ladies all have our finger on the button when it comes to vibrators, in fact, a recent survey highlights that half of the UK female population aged 31-76 own a vibrator and 81% are happy to talk openly about theirs – 81% being my entire friendship circle, but that's by the by.
The point I'm making is that to give you peace of mind that you're definitely going to get to the big O, a little help goes a long way. With this in mind, I've picked out my new personal favourite and a few reasons as to why…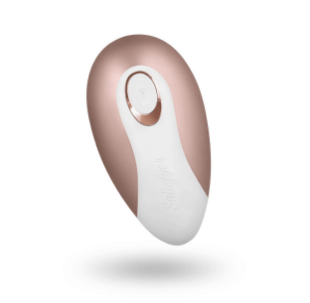 So here's what you need to know and why it's my favourite…
Small and luxurious, the elegant design of the Satisfyer Pro Deluxe is ideal for those that like sophistication and style – us basically.
Small, oval and inconspicuous, the popular rose-coloured toy fits into any handbag, it's discreet, stylish yet very powerful. No brainer?
This small toy of joy is also waterproof (that means bath time just got a whole lot more exciting right?), making it the perfect travel companion too – oo er.
Sure it's good for solo play but don't forget, this luxurious stimulator can be used to enhance sex too!
Guess what? There are ELEVEN different intensity settings. If that doesn't build up the pleasure, I don't know what would!
Oh and of course, it's safe and hygienic, with surfaces, nooks and crannys that can easily be cleaned quickly.
The Pro Deluxe also says bye bye to batteries and hello to being USB rechargable – what a development in modern technology. Never again will you have to cover your red face when you're asked why the remote control feels so light!
So, back to my original point, it's Masturbation Month, perhaps time to celebrate?