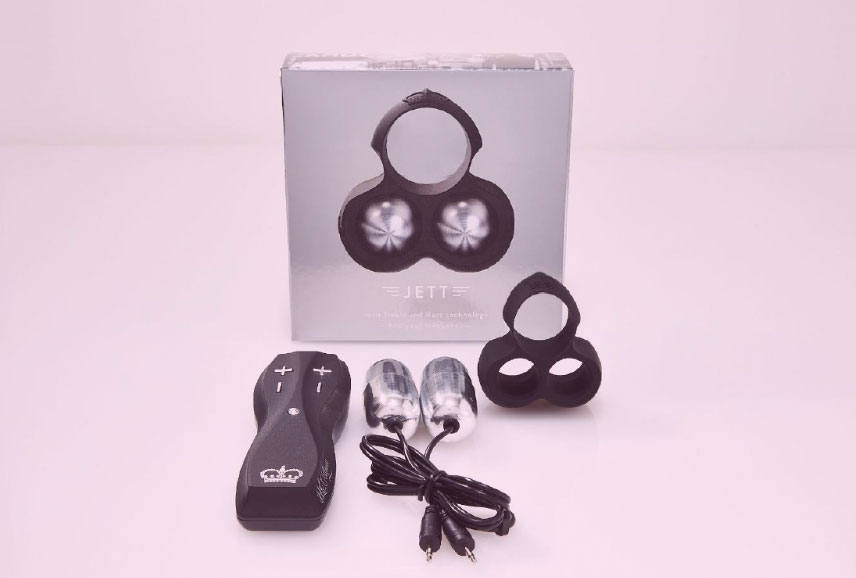 Have you heard the word about JETT, fellas?
No? Well, listen (read) up. Hot Octopuss, creator of PULSE, the World's First Guybrator™, has launched JETT, its first penis toy powered by Treble and Bass Technology. This BRAND NEW penis toy allows endless choice over amplitude and frequency of vibration for intense, hands-free orgasms.
Naturally, and apologetically, I'm unable to review this toy for you because, well, I don't have the necessary appendage required to indulge in such pleasures but I can certainly tell you more about it and why it's definitely worth a try to totally transform self-gratification.
JETT is a powerful Guybrator™ that is worn against the frenulum, just below the tip of the penis. It delivers an intense, hands-free orgasm with a flexible sleeve that expands, enabling the user to effortlessly go from flaccid to erect.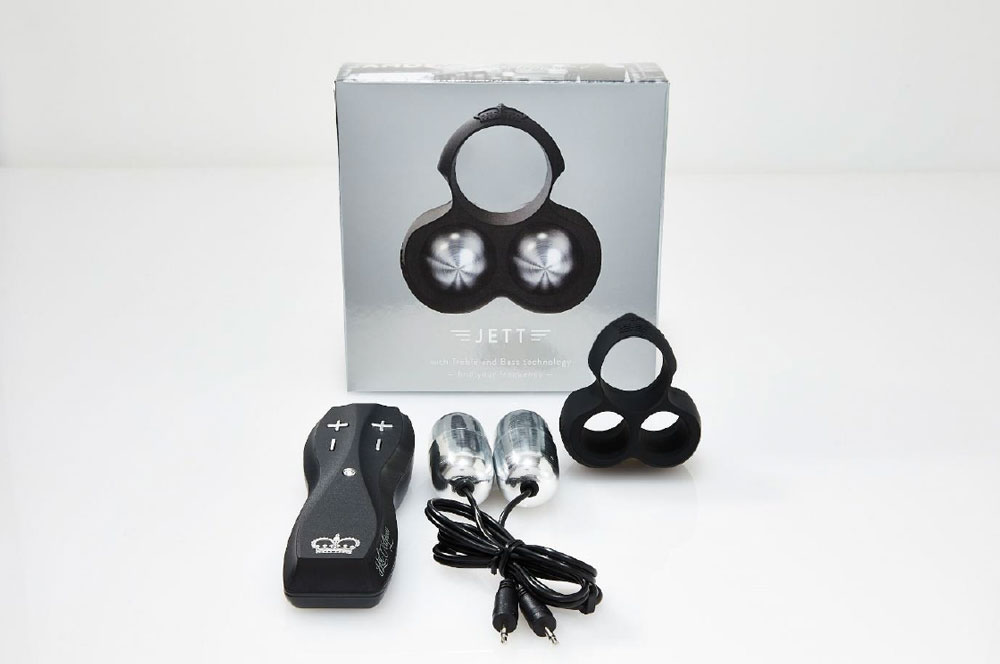 JETT is powered by two custom 'bullet' vibrators each containing a different sized motor, which deliver contrasting vibration frequencies. The Treble Bullet emits intense high-frequency waves while the Bass Bullet delivers deep, rumbly low-frequency stimulation. The user can deploy each bullet separately or in combination. By adjusting the power of each bullet, the user is able to find their perfect frequency.
Main Features of the JETT:
Powerful Guybrator
Two custom bullet vibrators
Patented Treble and Bass technology
Choice of frequency & strength of vibration
Discreet delivery
Affordable luxury
As part of Hot Octopuss's commitment to making its products accessible to more customers in 2019, JETT is being offered at a much lower price point than other products in the range – that's just £49.99. A great incentive to get guys indulging in a bit of guilt-free pleasure!
Adam Lewis, Hot Octopuss CEO and designer of JETT, said:
"Technological innovation is a key part of what we do at Hot Octopuss and we're proud that after many years' work, we've perfected Treble and Bass Technology, an idea we had right back when we launched PULSE in 2013. JETT gives the customer the opportunity to customise the strength and frequency of the vibrations they receive for a truly custom experience, but with technology that allows a lower price point than our other products. We're excited that JETT will introduce a whole new customer base to guybrators and feel that the product sits really well in our current range, offering another option to retailers who want to give more customers access to our brand. This is just the first product launch of many in 2019, and we expect it to be a very exciting year of growth for Hot Octopuss."
Hot Octopuss strives to change the way sex toys are perceived by sitting at the cutting edge of sex toy design, taking concepts, technology and materials from outside the adult industry in order to bring pleasure products into the 21st Century. They're certainly doing things right aren't they? Their aim is to create products that go beyond conventional thinking, designed to fit in with people's lifestyles, not just their bedrooms.
In my opinion, they've achieved exactly that with JETT – beyond conventional thinking and designed to fit with people's lifestyles. 
Sex toys for men seem to be much more 'unheard of' by the masses but just as much as a woman is forever grateful for the rabbit in her bedside drawer, perhaps more men should consider taking a leaf from our proverbial book of self-pleasure. The JETT is a great way to get the ball rolling by experiencing powerful, personal sensations from a 'toy'.
Buy JETT Here From Hot Octopuss