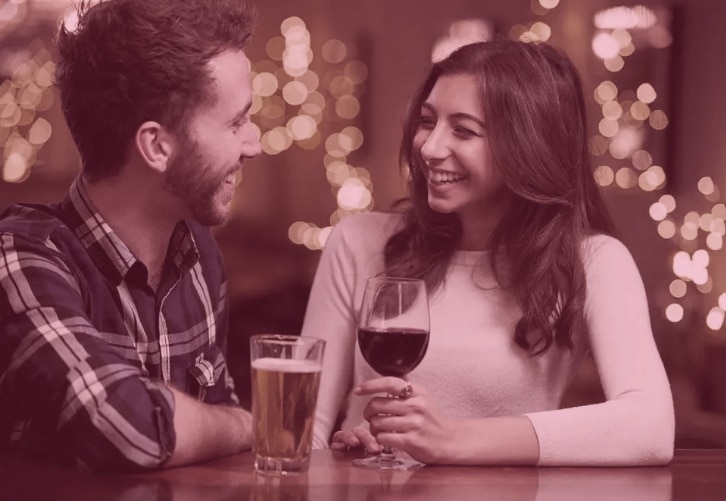 When you go out on your first date with someone, what is that you are looking for?
To many, it is about the goosebumps they develop, their smell, sense of humour for others, some other people are more interested in the depth of the conversion they had. Irrespective of what you look for, it is all about getting a positive vibe.  
Dating changes with age
As you grow older, you start experiencing some change of habit, and dating is not left out. Your priorities and goals of dating will naturally change as you grow older since you are not the same person as you were 10 years ago. We are here to help you locate your true love, and we will give you tips on dating at different stages of your life. The internet has also influenced how dating has changed over the years because you can meet a potential soulmate on the internet.  
Dating in your Teens to your 20's

 
There are many options for in your 20's, and you are still a youth at this age. This is when you begin life as an adult; you are still schooling, partying, and travelling. At this stage, you want to try out new things that you were not able to do as a teen, not just with dating, but with your appearance to influence how you feel too! Oh and if you're anything like me, that includes buying new outfits, experimenting with make-up for date nights and laser hair removal in Glasgow to tackle those tricky-to-tame areas.
The reason for dating at this age is mostly for social approval. You want to be seen with the prettiest girl as a guy, and as a girl, you want to be seen with the fittest guy; you are merely living the moment of your life. Most people at this age date for the pleasure and fun of it, and there are no long-term goals from most relationships at this age.  
It is only a matter of time before you graduate, and you find yourself in your mid or late 20's. At this stage, you start experiencing some changes, and you become more mature. You now have a life to live, a career to pursue, and maybe start preparing to get committed to someone.  
Dating in your 30's

 
In your 30's, your life is beginning to shape up, and you already have a clear picture of things that you want to achieve. At this age, you must have figured out already who you indeed are, your fears, what makes you happy, and what to look for in a partner.  
Many people in their 30's move past the dating phase within 1 to 2 years after meeting the right partner – one who possesses the qualities that they look for in a partner. There is no time to waste at this phase of your life because you want to settle down, start a family, and have kids. At this point, you must leave with the consequences of your actions.  
You already have a career, and you are doing fine. You will no longer have time for night parties and the likes. Besides, you must have had both good and bad experiences.  
Tips for dating in your 30's: you have to be honest and realistic with whoever you are seeing. Furthermore, it is vital that you discuss your goals and dreams early in the relationship in other to avoid problems later on when you both have gone far, and things get complicated. You can move on quickly if your goals don't match, and no compromise can be made. There is always someone out there looking for the same thing as you.  
Dating in your 40's

 
You are more mature than ever before. You have met a lot of people from different parts of the world with a diverse background. At this point, you must think outside the box, and make a decision to expand your social circle. This time of your life demands that you remain positive and get noticed.
Dating in your 40's is a little different from dating in your 30's or dating in your 20's. You probably have been in a marriage that didn't work out, the same may apply for a potential partner that you will meet. There will be commitments and attachment, such as children from previous marriages.   
Tips for dating in your 40's: you have to be more open-minded. Practice your dating skills a couple of times with your friends or use online dating site, and be ready to improve. Give yourself a complete makeover. Go shopping and get lovely joseph ribkoff dresses that look smart on you and make you look younger. Eat healthily, hit the gym, and have a fresh haircut to have a nice and more attractive look.  
Dating in your 50's

 
Dating in the 30's and '40s is quite different from dating in your 50's because, at 50, you have seen a lot. You are beginning to have a different perspective on life, and you should be looking forward to your retirement. Dating in your 50's, you are not a novice; instead, you are reentering the dating life. You may find it stressful or exciting. You must work towards achieving success as you would for any other important thing in your life.  
You should not wait for luck to come your way; instead, you have to go out to find love. Most people dating in their 50's are looking for fulfilment rather than mere pleasure.  
Tips for dating in your 50's: you have to stay positive and maintain a positive conversation. Any negative vibe is a complete turn-off. Tell your date amusing stories about yourself and leave the sad ones out of the conversation. Ask questions about things you would love to know about your date, listen attentively, and respond in the best way possible.  
Dating in your 60's
You have achieved so much in life, and now is the time for you to start enjoying all that you have worked for. You need a companion to enjoy the remainder of your life's journey. You still have many years to live.  
Dating in your 60's means that you are looking for a best friend who will go with you everywhere. That you are 60 doesn't mean your life is over, you can still fulfil your physical needs.  
Tips for dating in your 60's: go out and meet new people, widen your social circle. Join a charity, hire a matchmaker, join a dancing class, or a yoga class.  
How has dating changed over time?
You should embrace new opportunities, and act on your current situation rather than sit in one place waiting for a miracle to happen.  
 You don't have to worry about being single anymore because you can meet new people looking for the same thing as you. Go out with them on a date and see if you can date and get something beautiful out of the relationship.