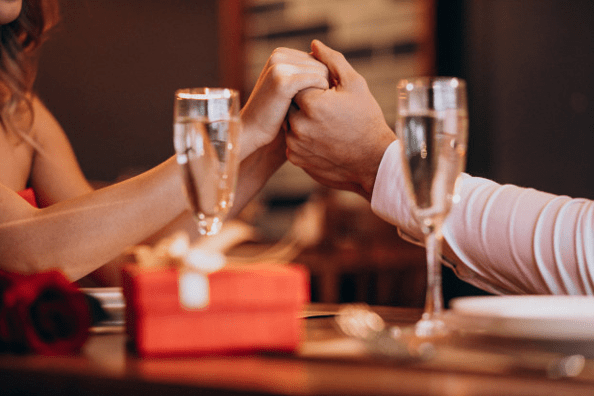 Las Vegas is not just an international gambling hub.
Yes, I'm talking about Las Vegas, Nevada – not to be confused with the UK's answer to Vegas, being Blackpool hotels offering gambling getaways, hen and stag weekends and cheap booze. Las Vegas is the real deal, and in addition to playing games of chance at the glittering land casinos, there are plenty of things to do in Vegas.
Guest writer Kevin Cochran shares some cool Las Vegas date ideas that will spice things up for you. To find out more about Kevin Cochran click here.
Las Vegas is friendly to couples, irrespective of how long you have been together. You will find no shortage of romantic things to do in Vegas if you find yourself in the city, which offers options as unique as taking helicopter rides, wine tasting, and taking cooking classes, to mention just a few.
Are you in Las Vegas with your special someone for a few days? Here are some fun first date ideas in Vegas, which you can use:
Take a Flower Bath
Bali is not the only place that offers romantic flower baths for couples. Las Vegas has imported the culture of Bali into its luxurious hotels. Talk to your hotel about it and ask them to arrange a flower bath for you.
You can also choose the type of flowers you would like and order a bottle of champagne to round off the romantic evening.
Play Games Together
There are loads of Canadian couples who save up and visit Las Vegas to not only see the city but also enjoy a night or two out at some of the most popular Las Vegas casinos. If you like gaming, this might be a great time to spice up the romance by winning some cash. Canadian players who cannot afford the Vegas trip can still have an online Vegas-style gaming experience. If you are looking for free to play Vegas-style games, check out free keno.
Fly a Hot Air Balloon
You don't have to stick to the Strip to have fun in Vegas. Some of the hottest first date ideas Las Vegas include hot air balloon rides. The city is home to several companies that allow you to enjoy an aerial view of Las Vegas.
The rides begin early in the morning, allowing you to enjoy a different Las Vegas. It is a great way to get away from the hustle and bustle of the Strip and enjoy the natural beauty around the city.
Taste Some Wine Free of Cost
You can taste wine free of cost in Las Vegas, provided you are willing to travel to Pahrump, a quiet town an hour away from Las Vegas. Head over to one of the local wineries to enjoy a free taste of exquisite wine. They also take you on a free tour of their vineyard, which is once again free.
We recommend visiting Sanders Family Winery or Pahrump Valley Winery.
Watch a Vegas Show
You cannot leave Vegas without watching a show, such as a Cirque du Soleil show. There are shows for everybody in Sin City, ranging from circuses to musicals.
If you have decided to watch a Cirque du Soleil show, you can choose from six shows presented at six hotels. We suggest having a romantic dinner at the hotel before heading over to watch the show.
Go on a Gondola Ride
All tourists end up taking a Gondola Ride at the Venetian Hotel, which has a lagoon that winds all around inside and outside the hotel-casino property. You can also request a customized ride. If you are looking for something romantic, go for a night ride and enjoy the brilliant lights of Las Vegas.
Admire a Natural Wonder
As we already mentioned, there are plenty of things to do in Las Vegas and one of them is sightseeing. Rent a car and explore places of scenic beauty such as the Grand Canyon, Zion, Bryce Canyon, Death Valley, and many others.
We recommend visiting the Grand Canyon as one of the fun first date ideas Las Vegas because of its multiple rims, grandiosity, and proximity to the city. The place is just a couple of hours away.
Find a sweet spot at the end of the canyon and enjoy the sunset with your significant other. You will never forget the evening all your life.
Request a Couples Massage
Vegas is not just a city of glittering casinos but also a city of luxurious spas. If you are staying at Caesars Palace, you can access their steam room, sauna, hot tub, snow room, hotel pool, and many other amenities.
But you don't have to visit Caesars Palace as almost every Vegas hotel has a spa that will be glad to arrange a couple's massage just for the two of you.
Have Dinner at Eiffel Tower Restaurant
One of the most romantic things you can do in Las Vegas is having dinner at Eiffel Tower Restaurant. As the place is popular, you have to make reservations in advance. In addition to giving you a Paris experience, the restaurant presents a spectacular view of the Strip.
So, for your next holiday, go ahead and try out more than one of our Las Vegas date suggestions above and spice things up!
Love, Kevin x