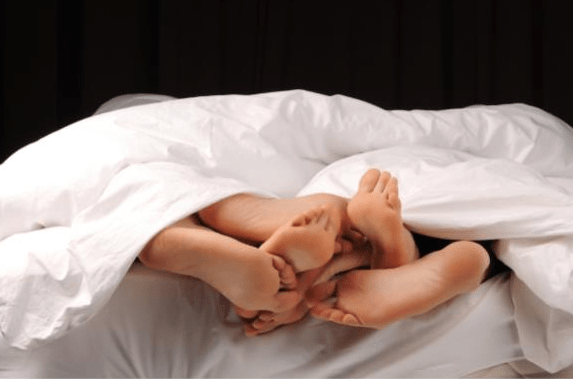 We all have our sexual fantasies – the thoughts we indulge in that make our toes curl with delight before putting us into a deep, peaceful slumber.
Sometimes we get to live out these fantasies with a lover, and other times we close our eyes, grab our favourite vibrator and rely on our favourite thoughts. From same-sex encounters, to passionate one-night stands, to gender-bending, to voyeurism…the list of sexual fantasies is endless. In fact, upwards of 98% of people report having had sexual fantasies before – they're healthy, fun and completely normal. Exploring your fantasies can help you learn more about yourself and discover how you can have the best sex for you.
What are some of the most popular sexual fantasies?
We've compiled a list of the 5 most common ones among women, and how to explore them.
1. Multi-partner sex
A multi-partner sex fantasy refers to either group sex, otherwise called an orgy, or a threesome. According to a study of 4,175 Americans on sexual fantasies, a whopping 89% of participants said they'd had a threesome fantasy at least once. For most people in relationships, this usually (but not always) would include their partner and a third.
How to explore a multi-partner sex fantasy: Before participating in multi-partner sex, it's important to have an open and honest discussion with your partner about whether you're both open to letting a new
person or persons into your intimate lives. If you're both on board, there are tons of apps where you can find a third, or you can even search for swinger clubs or communities.
If you and your partner don't want to introduce a third, you can indulge in a makeshift threesome by adding a realistic dildo with a strong suction cup to your toy collection. By attaching it to a wall or the floor, you can stimulate doggy or go for a ride while performing oral on your partner, mimicking a threesome. HotCherry has a great list of best realistic dildos if you want to browse some top-rated dongs to add to your toy drawer.
2. Infidelity
Believe it or not, infidelity is a popular fantasy among women – the thought of having sex with someone you know who is not your partner is as taboo as it can be thrilling. This is not to be confused with polyamory or an open relationship – this fantasy is about cheating on your partner without them knowing.
The thing is, you can be perfectly happy and in love with your partner and still find something exciting about the idea of cheating on them. Whether it is the novelty of a new sexual entanglement or the danger of getting caught, you shouldn't feel ashamed of a fantasy, unless you plan to act on the fantasy without your partner's consent.
How to explore an infidelity fantasy: If your partner isn't on board about cuckolding, you can still indulge in your infidelity fantasy by having your partner pretend to be a stranger. Plan to meet at the same bar or coffee shop, arrive separately, and play like you are just meeting for the first time. By living out your fantasy safely, you may realize that the fantasy is hotter than the reality.
3. Rough or dominant sex
Whether you're an avid BDSM participant or simply intrigued, the thought of a partner playing dominant in the bedroom is incredibly arousing to many – and experimenting with it can open whole new dimensions to your personality and expand your views on sex. Rough or dominant sex can range from bondage, to extreme dirty talk, to spanking, to sensory play…and often includes props such as collars, hand cuffs, nipple clamps or blindfolds. Rough sex can be animalistic, aggressive and passionate, but should never be dangerous. While this type of fantasy isn't new, the rise of Fifty Shades of Grey catapulted the world of dominants and submissives into many women's sexual bucket lists. The vulnerability and exchange of power is a huge turn on, and with the right partner, it could lead to some pretty intense orgasms.
How to explore a rough or dominant sex fantasy: Before indulging in rough play in the bedroom, it's essential to choose someone you trust, have a conversation about hard and soft limits, and establish a safe word. Whether you're aroused by light restraint or intense physical pain, you and your partner should be on the same page about your fantasy and the boundaries surrounding it.
4. Public sex
For many, having sex in public is a huge fantasy. Since this is illegal basically everywhere, the taboo of potentially getting caught, seen or overheard can be very exciting, and thus very stimulating. In a park, a dark alleyway, an aeroplane washroom, or in a movie theatre – the options can be never-ending depending on your creativity and risk tolerance, but the stakes are also quite high.
How to explore a public sex fantasy: The easiest way to not end up in the slammer for the night is to not get caught, but the only way to guarantee that is to not have sex in public – but that won't help you explore your fantasy! Instead, try out some substitutes: try going to a hotel and having sex with the blinds open, or having sex at a friend or family member's home, or going on a camping trip and having all the sex that you want. The thrill of potentially getting caught will mirror the excitement of having sex in public, without the potential repercussions.
5. Role play sex
Role playing is an extremely popular way to shake things up in the bedroom. The power dynamic can be incredibly sexy, and by getting lost in the fantasy, you can truly feel like you're someone else for the night, having sex with a new person you find attractive. Whether it's a teacher student dynamic, patient and nurse, or babysitter and stepdad, playing out new characters and story lines will keep your intimacy lively and ever- changing.
How to explore a role play sex fantasy: Have a conversation with your partner about your role play fantasies, and find out what theirs is. Then, gather up the props! Find the necessary costumes, any toys that can add to the fun, and don't be afraid to get loose and creative.
The more you get out of your skin, the better it'll be and the more fun you both will have.