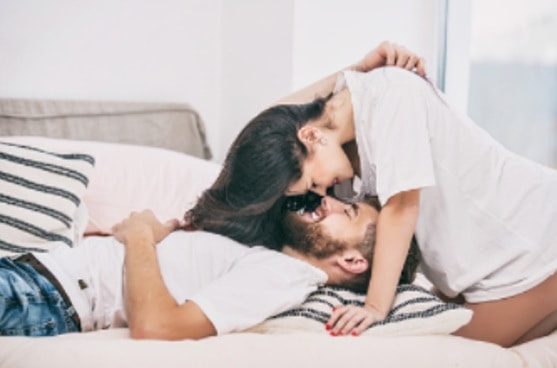 Communication is key for any successful relationship, but so is good sex!
Sexual intercourse is one of the most intimate acts two people can engage in. Sex not only helps you feel close to your partner but also increases intimacy and reduces stress. 
Unfortunately, countless couples struggle to maintain a healthy, active sex life in light of daily stress and obligations. Lack of sex can make you feel irritable, frustrated, and resentful. The good news is, with an open mind and a little creativity, you can easily spice up your sex life and find new, exciting ways to please one another.
One such way is with audio porn! Unlike traditional porn which might make some couples uncomfortable or embarassed, erotic audio sex stories are arousing, intimate, and unintimidating.
Ready to learn more about this unconventional form of porn and how to use it as a tool for sexual exploration? 
Grab your earbuds, your partner, and your sexual appetite, and let's get into it!
Audio Porn: The Wave of the Future
So, what exactly is audio porn? In a clashing of two worlds, audio sex stories combine captivating, erotica stories with the auditory stimulation of pornographic videos. Audio porn allows your imagination and pleasure to run wild as narrators read these sexy and seductive stories aloud. On websites like Sofia Sins, the story is read from the perspective of both characters, adding another element of arousal to the mix.
Not only is audio porn great for your own sexual exploration and arousal, but it's a unique way to increase intimacy with your partner and change up your bedroom routine.
1. Learn About Each Other's Likes and Dislikes
Not everyone is vocal during sex. While some people have no problem asking for exactly what they want, others prefer a more subtle approach. If the latter describes you, audio porn can help you get your message across.
Explore a few erotic sex stories that pique your interest. Once you find one that describes (in detail) a sex act you've been dying to try or something new and different you wouldn't mind experimenting with, share it with your lover. Tell them to pay close attention to the part you want to highlight. You can say something like, "I love what the husband does to his wife in the shower," or "I wonder what that would be like?", emphasizing a particularly racy scenario.
Even if you're not ready to be that upfront, simply listening to the stories together and watching one another's body language can tell you a lot about what turns your partner on and which sex acts they don't mind skipping!
2. Safely Explore Your Fantasies
Everyone has a sexual fantasy (or five!). But not all of us are prepared to dive headfirst into a threesome or BDSM scenario. Audio porn lets you try your fantasy on for size without commitment or fear.
Does your dirty talk involve a third person? Does the idea of your partner pleasing someone else turn you on? Listen to a threesome erotic audio story together and see what it's like. You can even incorporate some realistic sex toys to complete the picture. BDSM fantasies are also popular but skirt the line between pleasure and pain. If you're not ready for full-blown leather, whips, and handcuffs, try listening to an erotic BDSM story while blindfolded. Whatever your fantasy is, there's likely an audio sex story for it.
Who knows, after a while, you and your lover may be inspired to explore each other's fantasies in real life!
3. Broaden Your Foreplay Horizons
Is the same old foreplay no longer doing the trick? Are dirty pictures and sexting losing their appeal?
Audio porn is the perfect way to take your foreplay game to the next level.
Send your significant other a link to your favorite audio porn story. Knowing you're both getting aroused by the same narrator's voice and steamy sex scenes is a huge turn-on. Comment back and forth on which parts you like best or which scenes you want to reenact later.
Wait for your lover to come home and press play while lying beside each other in bed. Close your eyes and let your hands explore one another. Or, leave your eyes open and watch as the story unfolds and your partner's body responds. You can make a "hands-off" rule that means you can't touch each other until the story ends or maybe you have to recreate what the couple is doing as they do it. Let your wild and kinky imagination run the show.
With any luck, you won't make it until the end of the story without ravishing one another!
4. Share an Intimate Experience
Most times, watching porn and masturbating is a private experience.
What better way to connect with your partner than to let them in on this exclusive show? Anything you can share with your partner is a good thing, from date nights to dinner parties and beyond. Listening to audio porn together opens up an entirely new world of possibilities for intimacy.
Incorporate your lover into your sexual satisfaction. Listen to a sexy story together and let them watch as you touch and explore your own body. Not only is it a huge turn-on, but they'll see first hand (pun intended) how you like to be touched and pleasured. Take turns observing.
Most audio porn stories have a fairly strong storyline with well-developed characters.
Listening together is like a sexual storytime.
Discuss what parts of the story you enjoyed most and which ones you could do without. Share which characters you were drawn to and why. The more you share, the more you'll learn about each other, and the more in-tune you'll be with each other's needs. 
Use Audio Porn to Strengthen Your Relationship and Your Orgasm
Audio porn is more than just sexy stories read aloud.
It's a beneficial tool for connecting with both your partner and yourself. Listening to erotic sex stories together is an intimate and telling experience. Explore one another's fantasies and learn what your other half wants and needs from you in the bedroom.
By the end of "storytime", you'll both be buzzing with sexual energy and ready to release it on one another!