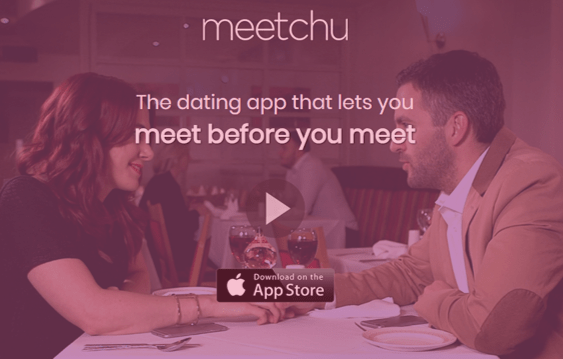 Meetchu is the next big thing for dating.
Okay, I know what you're thinking. Oh great, ANOTHER dating app for me to get my head around, swipe through aimlessly and see no real results, or people for that matter. I get it. We're all sick and tired of the standard dating apps not making any real changes to help us connect and match with the right people. We're all at a point now where the thrill of the swipe has well and truly disappeared. All we really want is to be able to find a dating app where the people we talk to are in fact real, genuine people – no catfish, no time wasters. Well, I promise you – Meetchu is a definite game changer.

So, what's Meetchu all about? 
Essentially, Meetchu's goal is to enable you to "meet before you meet". It seems easier said than done, right? Of course it does! How can you meet BEFORE you meet? Well, before we look into that, I guess it's a good idea to discuss – well – why this is a good idea. Internet dating has left a lot of us disillusioned and generally pretty fed up. A whole bunch of people lie about a whole lot of things online as they can hide behind a screen without a care in the world, or perhaps in person people don't quite measure up to your initial expectations from the things they'd listed on their profile. We could probably go on all day about this but ideally, if you could perhaps see your potential date before pencilling them into your diary and physically meeting up with them in person, you may avoid disappointment and wasted time, not to mention you'll feel more confident, and ultimately happier with your decision. No brainer right?
Now, there are 3 massive pros to using the Meetchu app…
Video Profiles
Sometimes, a picture doesn't really give you enough of what you need to know about a person. Especially in 2018 where everything is nip-tucked and filtered to high heaven. Enter Meetchu, that allows you to view actual video profiles of others. This way, you can get a real feel of what the other person is actually like in real life.
Secure Voice & Video Calling
Not only are you able to see video profiles of your potential matches, but once the conversation's started flowing, you aren't just restricted to simple text messages. Meetchu has integrated voice and video calling but here's the catch – you don't have to give out your phone number. This is a MASSIVE PRO. There's nothing worse than realising you're not compatible with someone and they constantly text you for months on end afterwards. All the perks of giving out your phone number, with none of the cons.
Delete Sent Messages
When you're using Meetchu to chat to a potential match, chances are you MAY say something mistakenly .Trust us, we've all been there. However, fret ye not my friends as you can INSTANTLY delete messages, photos and videos directly from the OTHER person's phone …at any time! Now, if that doesn't illustrate the beauty of technology, I don't know what does.
Convinced? Thought as much.
I feel like the biggest barriers we're trying to cross when choosing and using a dating app all come down to safety and security – that being knowing who the person is that you're talking to, and communicating with them in a way that protects you. Of course, this all sounds very serious and to an extent, it is. Meetchu are effectively taking all that worry away with the features they offer and they're effectively solving a problem we continue to face.
Ready to meet someone BEFORE you meet? 
*Download the app here to receive a ONE MONTH'S FREE premium membership!*

PS. If you download Meetchu, let me know – I'd love to know your thoughts!