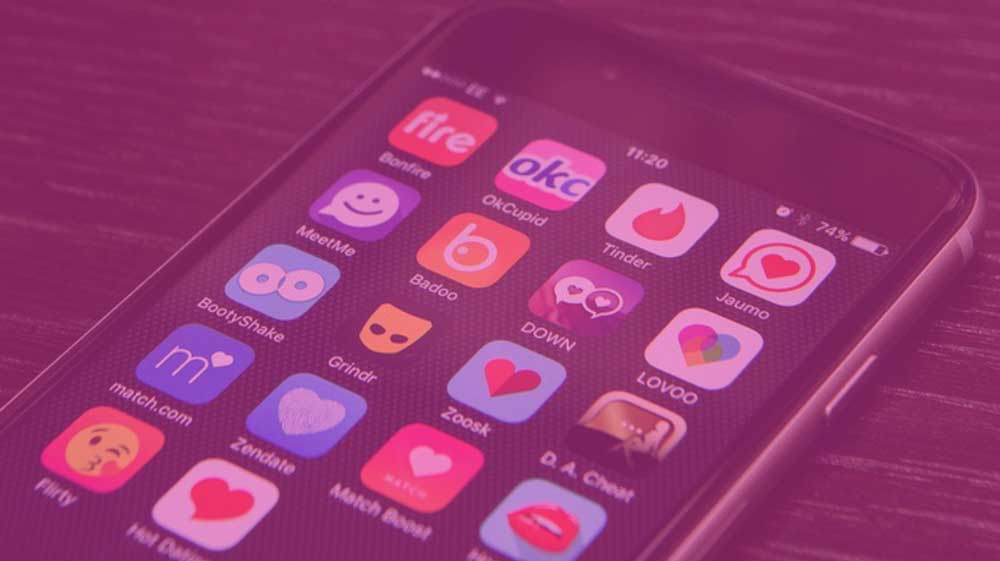 These days, there are apps for pretty much everything.
If you want something to eat, go to JustEat. If you want to find out where somewhere is, go to Maps. If you want to edit photos, use Filterloop. If you want to see what your ex of 5 years is doing at the weekend, get on Facebook. Get my drift? You can literally find an app for anything. However, due to the plethora of availability, sometimes their uses can be confused. It's easily done, but it can cause big problems – especially in the dating world.
As much as people in 2018 are now seeking new (old) ways of meeting a potential partner, the vast majority of us still hop straight onto dating apps when we're single. Unfortunately, the reason British singletons are seeking different ways to date is because a lot are having bad experiences with dating apps.
This isn't because the apps are bad, let's face it, as much as we all like a moan about the graft of having to swipe right for weeks to find our knights in shining armour, we love them deep down. It's an easy to get to know and meet people you may not have done in 'the real world' and there are a hell of a lot of success stories out there to back that up.
No, people are annoyed because they are using an app for purpose A whereas some people they're coming across on said app are using it for purpose B. Does that make sense? So, for instance, Joanna is using Tinder to find the love of her life, whereas Martin is swiping his way through Tinder to find someone looking for no strings fun. See what I mean?
It's all fun and games until someone thinks they've hit the jackpot when in reality, they've just got their wires crossed. It's important that we're all using the right apps for the right reasons when it comes to dating. When you're going on dates and hoping to meet someone, you face enough disappointment as it is without finding out that all the people you've been talking to are looking for something completely different.
So, with this in mind, I thought I'd put my two cents in and give you a bit of low down on a few of the apps out there that you might be using. Whether you're seeking a one-night stand or one true love, by using the right app, you'll up the ante and increase the probability of meeting someone on your wavelength. No brainer right?
TinSexApp
If you are looking to use an app to find someone who's looking for some fun between the sheets, then Tin Sex App has some great reviews and seems to be popular amongst those seeking some sexual gratification!
Match
One of the most popular dating apps around, offering a premium subscription service for serious daters looking for a serious relationship, Match is a great choice for people who are, as Patti Stanger would put it, ready for love.
Bumble
This dating app allows a little bit of differentiation to others. Rather than just a simple swipe, the gals are in control on this one. With time limits, and the choice to respond, it makes things a bit more exciting.
Tinder
Let's not get this one confused. As much as its reputation may precede it, Tinder is not all about casual sex. It's about dating. Just look it up yourself and see all the weddings online with signs saying "we swiped right!"
Happn
Fancy dating someone you may have already crossed paths with? Sounds spooky but don't be too concerned! Happn is a dating app that connects you with people you've actually be around. Trust me, it's good fun.
POF
Probably one of the most popular free dating apps around, and a little more detailed than the likes of Tinder too. You have the option to upload a detailed profile which increases your chances of hooking up with like-minded folk.
Jigtalk
This dating app is one of the newest of my list to hit the app store, and it's a belter. Rather than seeing the person's photo straight away, their face is covered with a jigsaw. To remove pieces and reveal their identity, you've got to make conversation. For every message and response, a piece is removed. I guess it shows the personality will trump looks any day!
Learned something? Hopefully! Let's not beat around the bush. Apps are a great way to meet new people so just be sure to use the right ones that are fit your purpose, whether that be to find someone to love, or to get laid.